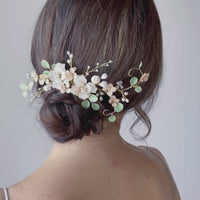 White peonies and eucalyptus headpiece
STYLE #2-247
Delicate and feminine, this headpiece made with our iconic peonies elements and eucalyptus leaves is perfect for the romantic and sophisticated bride. Created to add a touch inspired by nature, recreate a bouquet of fresh flowers in your hairstyle that will never wither.
100% handmade in our studio.
- Flowers and leaves made and painted by hand, natural Japanese and freshwater pearls, pearly pistils, Swarovski crystals, plated comb.
- Super light for maximum comfort.
- Easily styled branches for a custom look in your hair.
- Approx. size 16.5x9cm
Each accessory is handcrafted and may differ slightly from the original, always maintaining all its preciousness and details. You will wear a unique masterpiece.
Made to order accessory. It will be shipped in 2-3 weeks after purchase.
Shipping via DHL express courier in 1-2 working days throughout Italy.