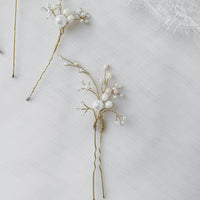 Watered pearl twigs hairpins - Set of 5
STYLE #5-580
Delightful set of watered pearl twig hairpins, made up of a multitude of pearls in various sizes and twigs for a delicate and refined addition to a wedding updo or a long bridal braid.
100% handmade in our studio.
- Natural Japanese and freshwater pearls, plated wire.
- Super light for maximum comfort.
- Sold in sets of five (5).
- Mounted on plated hairpins.
- Set size (excluding hairpin) approx. 3.5x3cm and 4x5cm
Each accessory is handcrafted and may differ slightly from the original, always maintaining all its preciousness and details. You will wear a unique masterpiece.
Made to order. It will be shipped in 2 weeks after purchase.
Shipping via DHL express courier in 1-2 working days throughout Italy.