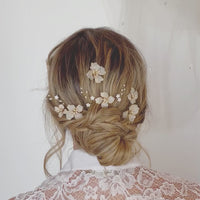 Cherry blossom hairpins - set 8
Style #5-550
Delicate, feminine and super refined, our cherry blossom hair pins, in a set of 8, are the accessories that will make you dream. Featuring a refined gradient pink color, white beads and natural pearls, the cherry blossom hair pins are made for romantic brides who want a sophisticated addition of beauty to their bridal hairstyles.
100% handmade in our studio.
- Hand made and hand painted flowers, beads, freshwater pearls.
- Mounted on hairpins for a personalized look in your hair.
- Sold in sets of 8.
- Approx. 11cmx6cm
Each accessory is handcrafted and may differ slightly from the original, always maintaining all its preciousness and details. You will wear a unique masterpiece.
Made to order accessory. It will be shipped in 2 weeks after purchase.
Shipping via DHL express courier in 1-2 working days throughout Italy.